It has been less than 2 weeks since the last post and the to-do list has decreased substantially.
The transmission tunnel is all carpeted and the gear lever gaiter and surround fitted. The gaiter is from a MR2 Mk1 and the original Midget surround needed cutting and forming before being welder back together. A quick coat of satin paint and it was screwed into place and looks sort of ok. I will sort out the larger opening at some point but time isn't on my side so it will do.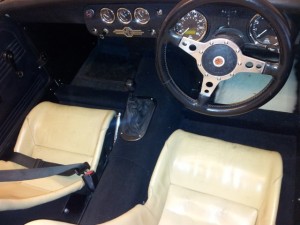 Next up was the manifold and heat shield. I'm not overly keen on the idea of exhaust heat wrap due to reports of the corrosion that can occur underneath it. However this car won't be used heavily so anything that helps keep the temperature down is worth a go.  Fitting it is a messy job that I hated doing and little strands of fibre go everywhere.  An additional shield was made to try and protect the alternator from the heat and clamped to the front primary.  I'm hoping that will be enough to keep it cool on the drive to Silverstone.
This evening saw the engine run up to full temperature for the first time and then waiting for the fan to kick in. I probably worry too much about this sort of thing but I didn't want to cook the engine so close to MOT time. Anyway the good news is that the fan did kick in eventually and the temperature was back under control in a few seconds so hopefully that little Suzuki Swift radiator will be up to the job.
While running to temperature the mixture setting was monitored and we are running a bit rich with an AFR ratio of 13:1 at idle and around 12:1 with some revs.  The throttle pump effect needs a tweak though because it does lean out noticeably as the throttle is opened before the fuelling kicks in.
The MOT is booked for next Monday so just 4 days to play before the maiden road voyage.