So last time I signed off saying that I'd be doing more cabling to get the thing running.  Instead I replaced the steering rack gaiters because the ones I'd picked up from a parts supplier on ebay didn't actually clear the rack fully. That's another tenner wasted but at least the ones from MEV Spares (jumblemaster) are the correct size.  If I had more spare time I'd visit MG Mecca a bit more for spared as they're only 20 miles away but unfortunately I have to work.
The heater took some time to sort out. The original heater is the early style square box but the snail fan was on the wrong side for me due to the throttle bodies being in the way. The solution was to turn it round and then weld up the holes in one panel and drill new ones in for the matrix in the other. Rather than use the snail fan assembly I knocked up a slim housing that I welded onto the heater box. The fan blade needed sliding onto the shaft a bit more and the fan motor mounted on some spacers to locate the fan in the narrow housing. I then was able to fit an input pipe from a 1500cc car and the end result looks good.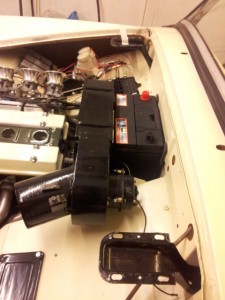 The last week's work has been spent knocking up an exhaust manifold from a few steel bends and a laser cut manifold flange.  Total cost is just under £80 for the manifold which while it isn't perfect it will do. It is made from mild steel but I had a 20 year old TVR that still had it's original manifold so I'm hopeful this will last at least as long.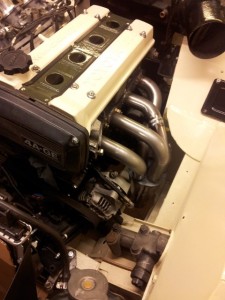 Other highlights of the last month or so include fitting the windscreen (can't believe that I don't have a photo) so that I stop placing tools on top on the body.